Online selling demands constant updating of the e-commerce website. It's not as straightforward as installing a shopping cart software. It requires immense forethought, planning, and a rich technical expertise. Taking advice from e-commerce web designers is the best thing to do, if one does not want to land up with error messages and navigational issues that are big enough to annoy or infuriate the customer.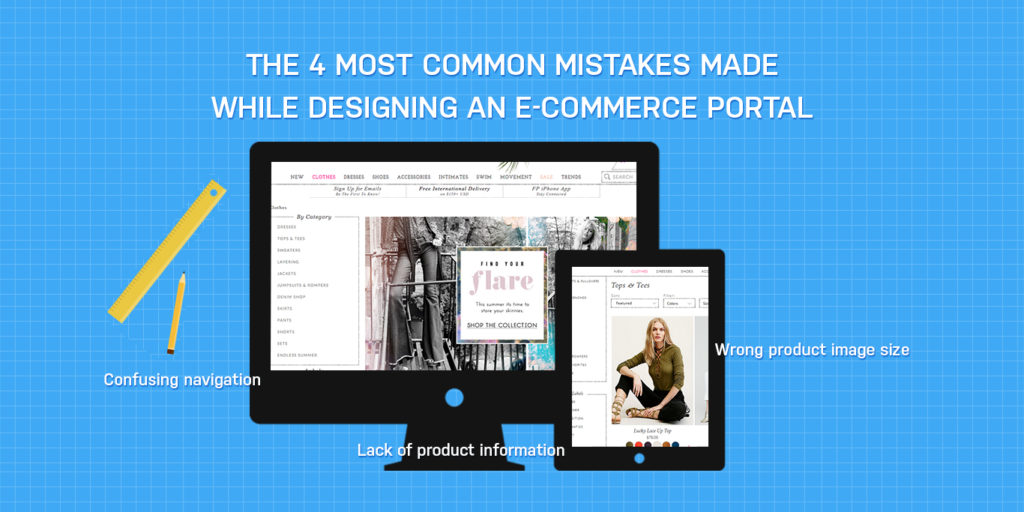 Some common mistakes committed during the e-commerce site designing process are as follows:
Lack of product information
Since online shopping eliminates a direct interaction between the buyer and the seller, therefore, it becomes imperative to mention all the possible product details. Customers always look for specifications about a product along with its price and related discounts. If they are not content with the information provided on the screen, they are likely to move away from the site.
Complex checkout process
A complex checkout process may cause much irritation to the customer. It may also result in a longer time for the site to load. Combining two pages, like putting billing and shipping details next to each other, seems to be a good option, as it makes the process appear shorter.
Wrong product image size
Images between 1MB-3 MB are the best to use. Large images take a lot of time to load and therefore, may trigger resentment among users, sometimes even causing them to leave the site. On the other hand, small images look poor in quality when downloaded. By taking the help of professional website designers, companies can choose from a variety of e-commerce website design that perfectly suit their business needs as well as the expectations of their audience.
Confusing navigation
It's a must for e-commerce sites to apply simple navigation schemes for the ease of usage for visitors. It starts with simple things such as labeling categories & having products under them, opting for a minimalist design, and many more.
The above-mentioned are only a few of the mistakes that companies commit, while embracing an e-commerce venture. However, by taking guidance from the best e-commerce web design company, such as Web Solution Centre, one can surely avoid these blunders. One may contact this company for building a new portal or revamping an existing one.