Bounce rate is a term used in web traffic analysis.  Bounce rate is the percentage of visitors who come to your website and leave without visiting any other pages on your website. If you follow Google Analytics account of your website, you'll see this percentage. For e.g, if the average bounce rate of your website is 65%, this implies that 65% of people who visit your website leave without further exploring the pages of your website. That is they leave the website only after viewing the page they landed on.
So the main point in question here is why it is happening in the first place. Etoile Info solutions from the very beginning are very adamant about their work ethos and they always strive to deliver result-driven Seo Services in Phoenix Arizona. To sincerely help you in curbing the high bounce rate your website might have witnessed, we are here with a list of reasons that can possibly be responsible for this.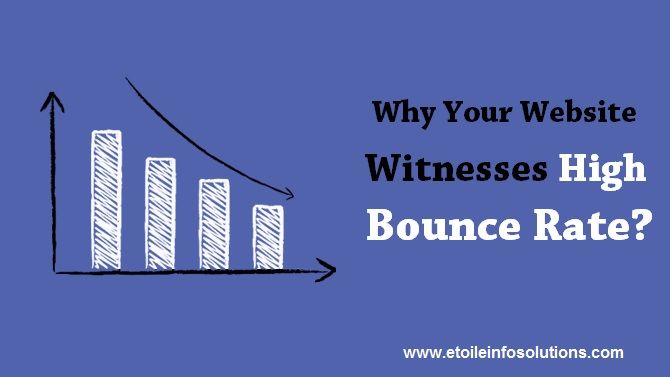 Slow Loading Time: Let's get one thing straight, your site can't take all the time in the world to load since your customers don't have all the time in the world to wait and wait…..and wait for your site to load. According to a study by Hosting Facts,
A single second delay in your website loading time can result in a 7% loss in conversion, and
40% of web users will leave a website if it takes more than 3 seconds to load
A faster website landing page has special merits in the books of Google and is certainly more qualified for better search engine rankings.
Content Layout is Unattractive: First and foremost, visitors don't read everything you have on your website; they just take a feel of it. There should be steady flow to the content that visitors see on your website. Design content in a way that can persuade them to take an action during their stay on your website.
Auto-Playing Videos: "Multimedia that plays automatically has a huge say in determining the length of stay of visitors on your website", yes…. That was the ideology a few years back. But today as technology is more advance and people are more aware, they finally came to understand its down points. Videos on landing pages that play automatically slow down your landing page and if a visitor has "tortoise-walk" style internet connection he'll be probably left with a buffering video player and a bad impression.
No Call-to-Action on Your Pages: It is important to have relevant call-to-action buttons on your website. Usually, visitors get lost as to where to go next from the landing page. If you really want visitors to take the actions you want them to, incorporate effective CTA on your website.