Etoile Info Solutions has been delivering result-oriented and custom made Seo Services in Phoenix Arizona for a long time now. We know you all must be familiar with the concept of native advertising and what all it entails. But seeing the far end of the sea is not something everybody can accomplish. Native advertising is more than what we all think and this blog is everything "native advertising" and more.
What is Native Advertising?
Native advertising feels like an extended version of a publisher's website. Confused? Let's talk in simple and understandable terms. Native advertising is a form of paid media where the ad experience circumvents around the natural form and function of the user experience in which it is placed.
Form: Native ads complement the visual design of the experience they are placed within, and look and feel like natural content.
Function: Native ads must work in harmony with the native user experience and the various function so that they look and feel like natural content.
Examples of Native Advertising
The main purpose of native advertising is to look and feel like the content around it, native ads are often difficult to spot. Here are some examples of native advertising to help you understand its different forms.
Native Search Engine Ads
In the image below, you can see native search engine ads are designed to look exactly like the organic search engine results.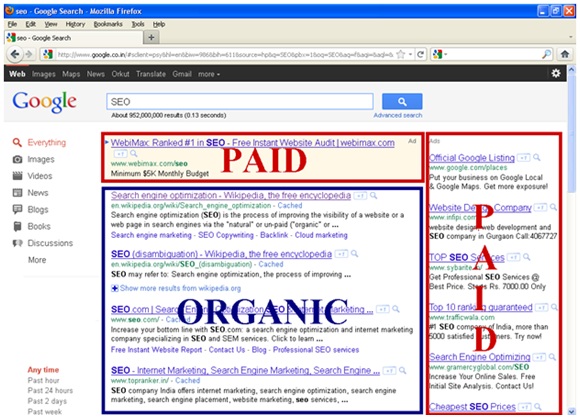 Native Twitter Ads
Twitter's promoted tweets are another form of native advertising. A promoted tweet looks just like any other tweet but is differentiated by the "Promoted by" text.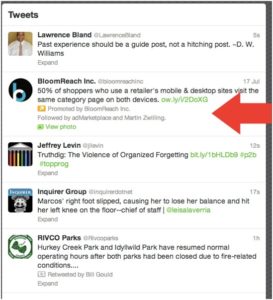 Native News Feed
This is the form of native advertising where the promoted posts pop up next to real news in publisher's new feed. Refer to the image below.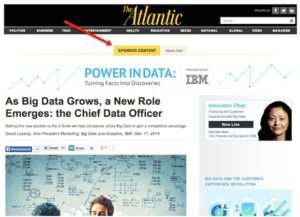 In the dictionary of Native Advertising, these promoted posts can be "sponsored" or "branded".
Sponsored: A brand sponsores or pays the publisher to create the content of the ad.
Branded: A brand pays the publisher to simply publish the ad.
Native Advertorial Ads
Advertorials are different from traditional advertisements because they are created to give the look and feel of articles appearing in publications. They are editorial content usually created to advertise a brand.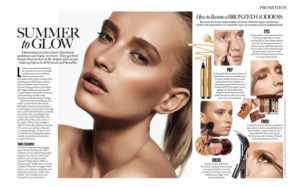 Native Video Ads
Native video ads are focused primarily on education and entertainment. They are generally click-to-play or autoplay (muted) video ads, mostly 30 seconds in length. These can be published on numerous social media channels including Facebook, Twitter, Pinterest, and Instagram; video uploading platforms, such as YouTube; and even the content discovery network like Taboola.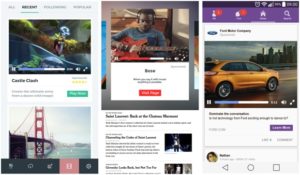 Goals of Native Advertising
With native advertising, the marketer tends to achieve two main goals,
To drive higher brand uplift and position a brand's image in the customer's mind.
Compelling consumers to take one particular action which can be done through native search engine ads mentioned above.
Why adopt Native Advertising?
There are two main reasons why one must incorporate native advertising to their arsenal of digital marketing tactics.
1. Native ads grab a lot of attention. According to a study, 25% more consumers were measured to look at in-feed native ad placements (the most common editorial native ad format) than display ad units.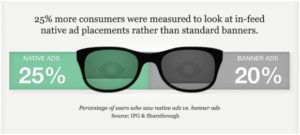 2. Native ads not only garner clicks, they also garner conversions. "Native advertisements registered 9% higher lift for brand affinity and 18% higher lift for purchase intent responses than traditional banner ads."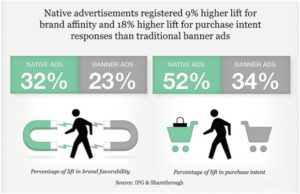 But the question is, WHY NOW?
There are still many marketers who are still not able to grasp the concept of native marketing.
According to a survey by Copyblogger, nearly 50% of marketers still have no idea what native advertising is all about and only 3% are thorough with the concept of native advertising.
So isn't it this a wonderful opportunity to reap the benefits of a digital marketing tactic your competitor know nothing about?
Yes, it is.
Reasons Your Company Should Use Native Advertising
Since websites are literally breathing in an internet world of ad blocking, ad skimming, ad skipping and free ad streaming services, marketers have actually run out of options to make their digital marketing strategy a success or make a niche in the online world. Well, they just need to put in one single extra tactic- Native Advertising.  As mentioned before native advertising is a form of paid advertising which resembles the form and function of the content in which it appears.
As a Reputed Mobile App Development Company in Phoenix Arizona, the experts of Etoile Info Solutions has curated few reasons why your company should use native marketing.
Let's dig in!
People want to watch and share good content: For all those who still live in a wonderland thinking that people won't pay much attention to the native advertising, the watch this video Microsoft created to ask users to reconnect with the new Internet Explorer. This native video is an epitome od excellence and did a wonderful job reminding people the perks of being a 90s kid. The video's 50+ million views are all we need to know what the craze is all about.
Consumers don't want to be JUST sold: According to a research, millennials are very clever in determining when brands are selling to them. And they simply hate it. More than 51% of millennials between the 18-44 years of age feel that branded content has more credibility than traditional advertising. This isn't something new; you can see this trend everywhere. Young people tend to block ads and they go by the words of influencers than rely on TV commercials.
Help spread real ideas: Good native advertising isn't only restricted to product or service promotion, they are formed to harbor emotions, educate and entertain. This method helps brands to pay attention to the various social issues, make people love and laugh and increase their brand awareness through high-quality content. This is the type of content people want and look forward to.