What is Email Marketing?
Shooting incessant emails to every potential or current customer could be considered email marketing. It usually involve using emails as a medium to send advertisements, request business, or drive leads and sales or donations, and is used to build brand loyalty, trust or awareness. Small as well as big companies use email marketing to connect directly with their customers.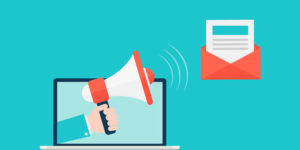 Top 5 Email Marketing Stats 2017
73% of surveyed consumers found that content with a strong personality helps in forming loyal relationships
Marketers who prioritize blogging are 13x more likely to realize a positive ROI
61% of the most successful content marketers have a documented strategy, while only 2% of the least successful have one (CMI)
85% of the most successful deliver content consistently (CMI).
87% of the most successful say they are able to quickly adjust their content marketing strategy (CMI).
Top 5 Benefits of Email Marketing
Etoile Info Solutions, Website Development Company in Arizona has put together an exclusive list of benefits that email marketing offer.
More Lead: Email marketing helps achieve more leads. Encouraging visitors to sign up for your email marketing list is one way to garner more leads. Another technique is to request your existing email subscribers to forward your emails on to your friends, families or acquaintances or to share it on social media.
Improved Sales: Just imagine if every subscriber on your email marketing list turned into a customer, what it would mean for your business? Pure business heaven! Unfortunately it's just a wishful thinking, but it can help you immensely. You can improve your sales by directing the right email campaigns on the right people. This can be done smoothly with email list segmentation, a process that allows you to focus on each of your listed subscriber with the right message at the right time.
Enhanced Conversion Rates: In order to sell your product, you need to convert your subscribers into customers and the secret to email conversions is to attract them using compelling content. As mentioned in #2 above, the solution lies in email marketing list segmentation. Here this process can help you know what type of content to use at each stage of the sales process. Master this and your customer nurturing efforts will give you fruitful results by overall increasing your conversion rates.
Identifying Right Leads: Don't waste your time nurturing the wrong leads. Before marketing your small business, make sure to have a lead qualifying system in place. Email marketing itself is a successful lead qualifying system that shows a potential customer's interest based on,
The fact that they signed up for your email marketing campaign list.
Whether they open your emails or not, and
If they click on any of the links within your emails.
Now that's impressive!